Pembroke Pines Mayor Honors Jamaica's 61 Years of Independence with a Heartfelt Proclamation
August 6, 2023
On 2 August, the Mayor of Pembroke Pines, Florida, Mayor Frank Ortis, shared a special proclamation recognizing Jamaica's 61 years of Independence. Alongside the City Commission, Mayor Ortis officially designated 6 August 2023, as Jamaica's Independence Day in the City of Pembroke Pines.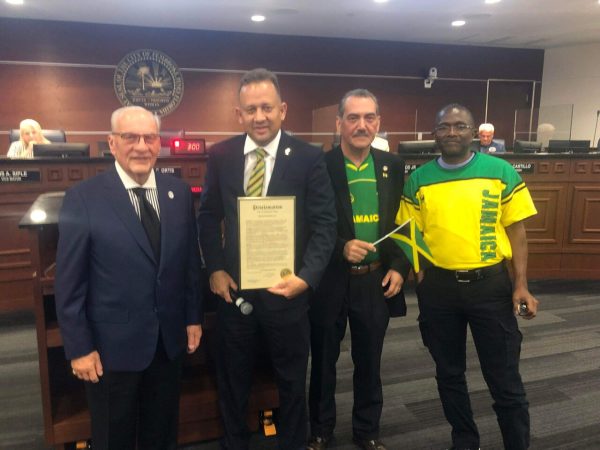 Celebrating Jamaica's Milestones
The Consul General of Jamaica for Southern US, Oliver Mair, was present at the event to receive a plaque bearing the heartfelt declaration. During the ceremony, Consul General Mair emphasized the significance of this gesture, particularly given Jamaica's current celebration of the historic victory of their national female football team, the Reggae Girlz, in their match against Brazil. This victory not only advanced the team to the Round of 16 in the international football tournament but also eliminated Brazil from the World Cup for the first time since 1995.
Furthermore, Consul General Mair highlighted Jamaica's remarkable achievements despite the challenges posed by the pandemic. The country achieved GDP growth and attained its lowest unemployment rate in its history.
Jamaica Independence Activities in Southern USA
Under the theme of "Jamaica 61 – Proud and Strong," several cities in the Southern United States have planned numerous events throughout 2023 to honor the 61st anniversary of Jamaican independence. Pembroke Pines is among those proudly participating in celebrating this significant milestone.
READ: Southern US Schedules Multiple Events in Celebration of 61st Anniversary of Jamaican Independence
The post Pembroke Pines Mayor Honors Jamaica's 61 Years of Independence with a Heartfelt Proclamation appeared first on Jamaicans.com.