GraceKennedy Money Services/Western Union to sponsor the All Boys & All Girls Penalty Kick-off at True Blue Weekend March 24th-25th, 2023, Miramar, Florida
March 8, 2023
GraceKennedy Money Services/Western Union will be sponsoring the annual True Blue Girls & Boys Alumni Penalty Kick-off. The event is a part of the annual True Blue Weekend on March 24th-25th, 2023. Participating schools in the True Blue All Boys & Girls Alumni Penalty Kick-off will have the opportunity to win cash prizes donated to their alumni association: a $100 cash donation to the winning school and $50 cash donation to the second place school.
"With its partner Western Union, Grace Kennedy Money Services is delighted to support the True-Blue calendar event. Congratulations to the Jamaica Alumni Associations for keeping the spirit of the Zadie cup competition alive. Not only will it be an amazing experience for the Attendees, but it will be an excellent platform for GraceKennedy Money Services, Western Union, to share the news about our exciting promotion, " School Spirit." This promotion which kicked off on February 24, will leverage the 2023 staging of the ISSA Boys and Girls Champs to get past students of Jamaican secondary and high schools, including Jamaica College and St George's College, to show their support for their alma mater. When customers download our newest product, the GK One app, they will get the chance to win cash prizes for themselves AND help their schools earn points which will count towards them winning their share of J$1,000,000. Visit the GKMS School Spirit Promotion page for details." said Hazel Maragh Caribbean Marketing Community Consultant.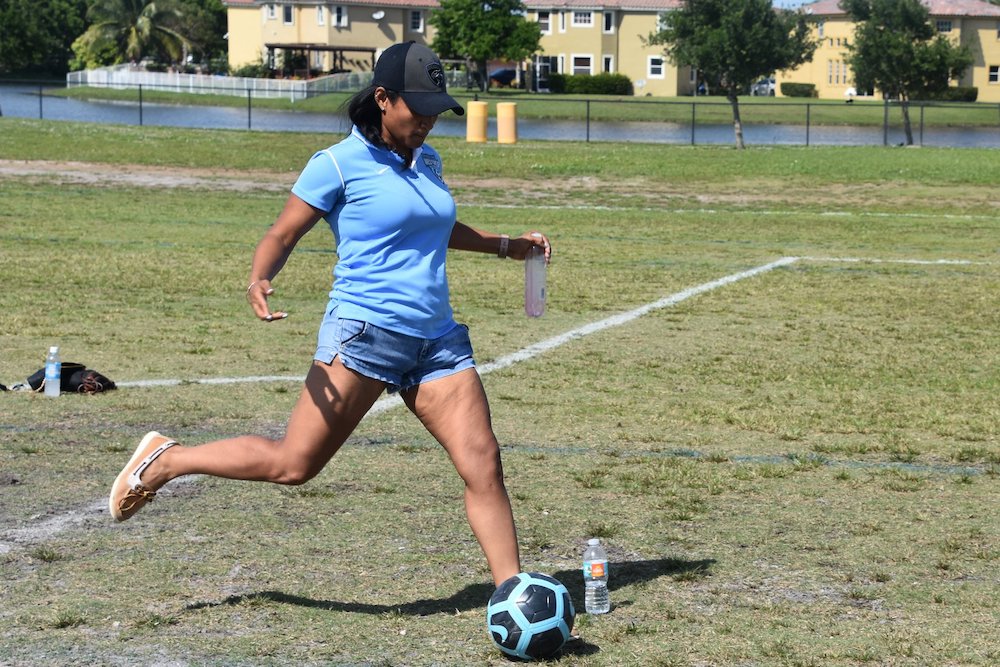 Schools that have participated in the True Blue All Girls & Boys Alumni Penalty Kick-off in previous years are: Camperdown High School Past Students' Association Florida Chapter, Convent of Mercy Academy "ALPHA", Immaculate Conception High School Alumnae Association, Queen's High School Alumni Association, St. Andrew High Old Girls Association, St. Hugh's Alumnae Association of South Florida, and Montego Bay High School Alumnae Assoc South Florida, Anchovy High School, Merl Grove High School, Manchester High, Kingston College, Wolmers, Calabar, Clarendon College, St. Catherine High School and Vere Tech.
The True Blue weekend is an expansion of the annual Ziadie Cup soccer match between The St. George's College Old Boys Association of Florida, Inc. and The Jamaica College Old Boys Association of Florida, Inc. The annual match is in memory of Dennis Ziadie, who coached both schools to Manning Cup victories. The True Blue Weekend is expected to draw over 1000 spectators and supporters. The True Blue 2023 weekend dates, events & locations are as follows:
What: True Blue Party with DJ Squeeze
When: March 24th, 2023
Where: Sunset Lakes, 2801 SW 186th Ave, Miramar, FL 33029
Time: 7pm to 2:00 am
Contribution: $25 (Day of Event – $30)
Purchase Tickets Here
What: True Blue Soccer Fest
The 16th Annual Dennis Ziadie Cup Soccer Match (JC vs. STGC)
Under 40 Invitational Soccer Match (JC vs Wolmers)
All Boys/Girls/Co-Ed Schools Alumni Penalty Kick-off
When: March 25th, 2023 Time: 2:00pm – 10:00pm
Where: Vizcaya Park, 14200 SW 55th St. Miramar, FL 33027
Admission: FREE
For more information, visit the website or our Facebook Page.
ABOUT GRACE KENNEDY REMITTANCE SERVICES/ WESTERN UNION
Grace Kennedy Remittance Services is one of Western Union top agents. They are the WU Agents for Jamaica, Guyana, Trinidad and Tobago, Antigua and Barbuda, Anguilla, St. Kitts and Nevis, St. Vincent and the Grenadines, The B.V.I, Montserrat, the Turks and Caicos, and the Cayman Islands. It is now very simple and easy to send Money through Western Union in the following ways, at an Agent location (Publix,Winn Dixie, The Check Cashing Store) on the Internet at www.westernunion.com or on the phone at 1800-call-cash. This can be done by using your Western Union Gold card. With the Western union Gold card rewards program, Customer save time, earn points and phone time and choose your reward. Western Union Fast safe reliable and Convenient.
ABOUT THE JAMAICA COLLEGE OLD BOYS ASSOCIATION OF FLORIDA
The Jamaica College Old Boys Association of Florida was established in 2004 as a 501(c) (3). The Jamaica College Old Boys Association of Florida is committed to uphold the traditions of excellence of Jamaica College as one of the foremost educational institutions in the country of Jamaica and to support the school in the development of its students.
The post GraceKennedy Money Services/Western Union to sponsor the All Boys & All Girls Penalty Kick-off at True Blue Weekend March 24th-25th, 2023, Miramar, Florida appeared first on Jamaicans.com.